Portland, Oregon Criminal Defense Attorney and Portland, Oregon Personal Injury Attorney

Tony is not just a talented trial lawyer. He is a real person who will listen to your problems and work with you to find the best solution given your unique situation and circumstance. He is patient, kind and compassionate, and willing to go the extra step for each and every client. He will explain the confusing legal process to you in plain words. He understands that as your case progresses the analysis changes, and he strives to explain what it means for you and for the prospects of maximizing success in your case.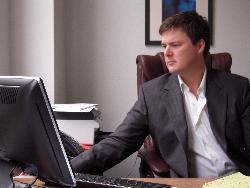 After college, Tony worked as a public policy analyst and then later in Democratic politics. With success in the rough and tumble of politics, he decided the time was right to jump from the political arena to the academic world. During law school, Tony excelled at the University of Denver. He spent two years on the Law Review, earned several scholastic prizes, and graduated fourth in his class. An associate position in a large law firm seemed to be the natural step for his next career move.

Yet Mr. Schwartz disliked the corporate nature of law firm practice, and left it for a clerkship with a federal judge on Colorado's United States District Court. After another stint at a boutique firm, Tony left law firm life and became a state prosecutor. As a prosecutor, Mr. Schwartz tried numerous felonies and misdemeanors. After moving to Oregon, he switched sides and accepted a position as a public defender, becoming one of a handful of criminal lawyers to ever serve both as a prosecutor and public defender.

With insight into both sides, Mr. Schwartz provides a unique perspective for his criminal defense clients. Tony has won the vast majority of his trials. As a trial lawyer representing criminal defense and other clients, he knows his way through the courthouse and around the courtroom. Mr. Schwartz has been described by several prominent attorneys and judges as among the best trial lawyers in the community.

Mr. Schwartz is a member of the state bars of California, Colorado and Oregon.